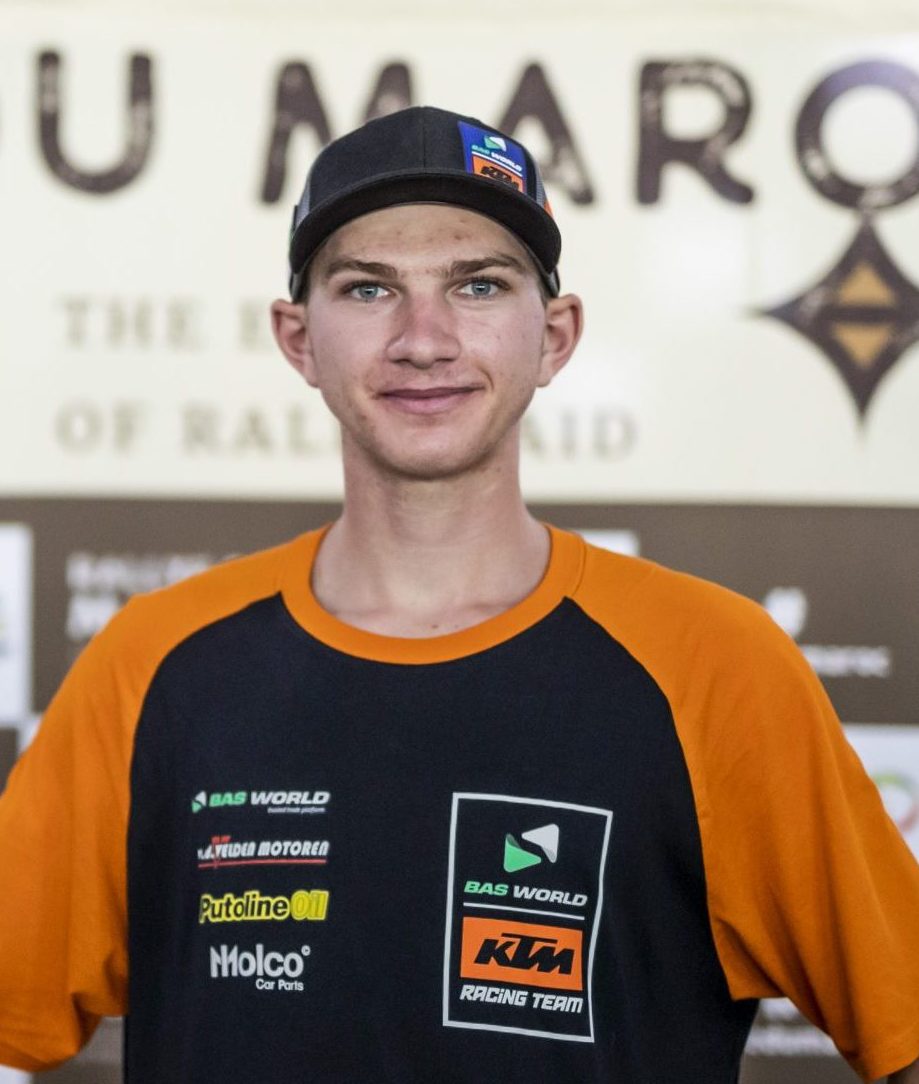 "IT'LL BE PROBABLY THE CRAZIEST RACE OF MY ENTIRE LIFE"
I started racing offroad in 2011 or 2012, but I had no idea about Dakar until 2018, at a KTM Adventure Rally. I saw a rally bike for the first time, and I told my parents, I need to do that! My first ever rally was Sonora 2020, and it was not good. On day one I had a wiring issue which kind of put me out of the overall running, but after that I got good results, third overall every day behind Ricky and Skyler. I used to train with all the top American guys, but now it's pretty much just me and Skyler. It's great having all his knowledge, coming from my position as a privateer. It was really cool to go out to Morocco and see so many familiar faces. I knew them, even if they didn't know me. Everybody was telling me how difficult the nav was going to be. It was definitely harder than Sonora, but I felt it was really good for me. A lot of my speed comes from my navigation. For sure the first and biggest goal at Dakar 2022 is to finish. You can't win if you don't finish. I imagine that you need to learn to pace yourself. My second goal is to avoid any navigation mistakes, I don't want any penalties. You can't go fast if you're doing circles, for sure. I feel like I don't really get nervous, I just know that I want to be there. It'll be probably the craziest race of my entire life. And I know that, but at the same time I'm excited to start.
Mason Klein is set to become the latest in a string of talented young Americans to line up on the Dakar in 2022. The 20-year-old biker from Agua Dulce, California, has really been making a name for himself in 2021, finishing fifth at the Sonora Rally -behind stars like Ricky Brabec, Skyler Howes and Nacho Cornejo- and then storming to victory in the Rally 2 class at the prestigious Morocco Rally. While he acknowledges that this maiden Dakar will be the biggest challenge of his career to date, he is also quietly confident that he can do a solid job in Saudi Arabia, pointing to navigation as one of his biggest strengths. Mason may be young, but he has been racing offroad for around a decade -and even went to pick up his high school diploma on a motorbike! His father Larry rode dirtbikes for a long time, but decided he wanted to be involved in a discipline that had races for kids. Mason and his 17-year-old brother Carter therefore developed an early passion for offroad racing, going on to enjoy plenty of success at events like Best In The Desert and the AMA National Hare and Hound series. Since discovering rally raid a few years ago, Mason has been steadily improving, to the point where he now feels ready to tackle the Dakar. Fellow California native Skyler has been able to provide lots of invaluable advices, given that he also comes from a privateer background and finished fifth at Dakar 2021 with the BAS Dakar KTM Racing team, who are supporting Mason in 2022. The American could potentially be one of the revelations of this 44th edition, but he's keeping his feet planted firmly on the ground; the most important thing is reaching the finish line.